RadioBOSS lets you use VST and WinAmp DSP plugins (dsp_*.dll), except ones that change the speed of a stream. You can also use an integrated DSP (e.g. Equalizer or Compressor).
To open the DSP manager, select the FX tab on the control panel: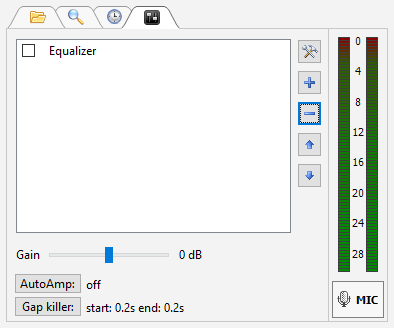 To add a DSP, click the "+" button. To remove a DSP, click the "–" button. To change DSP parameters, use the configuration button

.
To move DSP up/down, use the up-arrow/down-arrow button. DSPs are applied from top to bottom.
If you click the "+" button, all available DSP effects will be shown: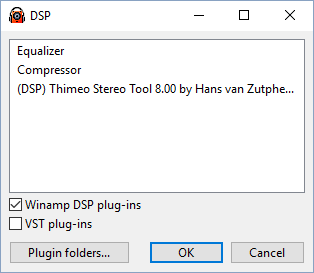 Check the Winamp DSP plug-ins and/or VST plug-ins check boxes if you want to use these plugins. To open the folder containing Winamp DSP plugins for RadioBOSS, click "Plugin folders..."
Select a plugin and click OK. The plugin will be added to the DSP chain: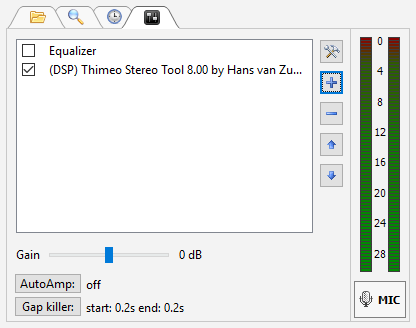 To turn DSP effects on/off, check/uncheck them in the list.
To install a WinAmp plugin, follow these steps:
1. Download and install the plugin.
2. Open the plugin installation folder (usually "C:\Program files\Winamp\Plugins") and copy the plugin-related files from there to RadioBOSS's Winamp plugins folder ("<RadioBOSS_Dir>\Plugins").
3. After installing the plugins, check the Winamp plug-ins check box on the Plugins tab. All detected Winamp plugins should appear on the list.
Select the plugin that you want to start, and click the OK button.