The Ad Scheduler is able to export ads, playlists and events to a remote RadioBOSS installation.
To use the remote ads management, you'll need to enable API access on the remote RadioBOSS installation and set a password.
To export your ads from the Ad Scheduler, click the 'Create playlists and events' button.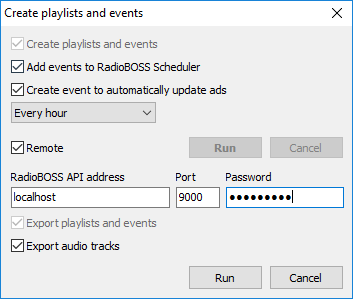 Enable the Remote option and enter the connection details:
RadioBOSS API address - enter the IP address of the computer on which RadioBOSS is installed.
Enter the port and the password that were set when the API was enabled.
It is recommended to keep 'Export audio tracks' enabled.
Click the Run button to export your adverts, events and playlists to a remote computer.
To update events and playlists automatically, schedule an event with the adsremote command. See also: Automatically update ads playlists and events.