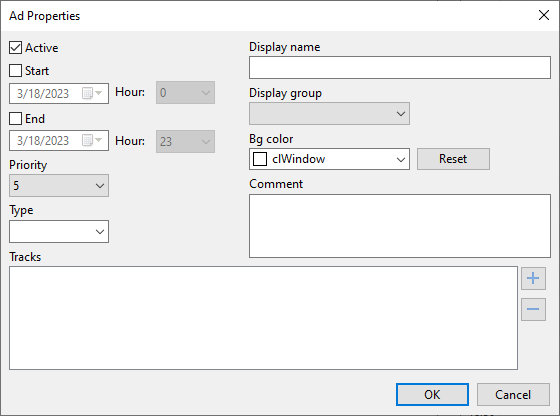 Active - Enable/disable the ad track.
Start - Set the start date and time (inclusive) for the ad track.
End - Set the end date and time (inclusive) for the ad track.
Priority - Set the priority of the ad track on the scale of 1 to 9. The priority defines the position of the track in a block (1 closer to start; 9 closer to end).
Type - Set the type of the ad track. The type is used for showing warnings in case two or more tracks of the same type are placed side-by-side (or example, two pizza commercials in a row).
Tracks - assigning alternate tracks to commercials. Alternate ad tracks are used when creating blocks. When you add the ad track to a block, the ad track is selected (main or one of the alternate ones).
Display group - Select a group to display track in the list.
Background color - Change background color in the ads list for this item
Comment - Write a comment, note for a ad track.