RadioBOSS has a tool to generate ready-to-print reports of what was played.
To open report generator click Tools -> Report Generator
Report Generator: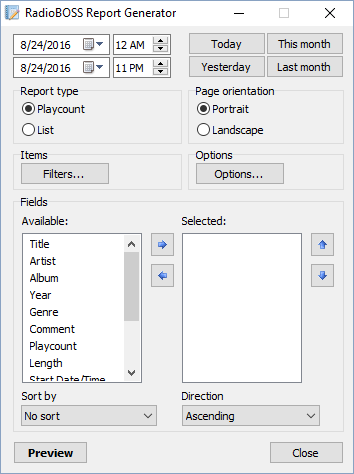 In this window you select report period (start and end dates), report type and report fields: title, artist, album, year, genre, comment, playcount, length, etc.
Report type:
Playcount - each track will appear in report once but will show how many times it was played
List - will list all played tracks
The report can be sorted by set criteria. To apply sorting, select the Sort by (Artist, title, album, year...) and Direction (Ascending or descending) fields.
Set the fields you want to see in report: move fields from Available to Selected list. Start hour starts with the 00 minute; end hour is at 59 minute (inclusive). For example, to generate report for 8:00:00 AM to 8:59:59 AM, select both start and end hours at 8 AM.
After all set, click the Preview button.
A window where you can print or save report will appear: