AUX players are mini playlists with simple playback and edit features. Those players can be used for various purposes: save and edit playlists, play tracks, jingles or announcements.
AUX players can only be added in Zone 2 or Zone 3. In order to activate those zones use the menu command: View->Work Zones->2 (or 3).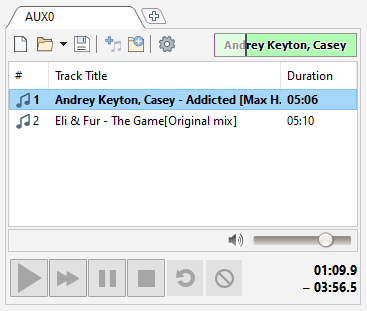 It's possible to drag-n-drop tracks between regular and AUX playlists: just start dragging a track by its icon (please see the Playlist page for details).
By default, AUX players play tracks on the Main sound device. It's also possible to use other devices. Click the Settings button to configure AUX player. If an AUX1 or AUX2 device is selected for the playback, make sure those devices are correctly configured in the Playback settings.