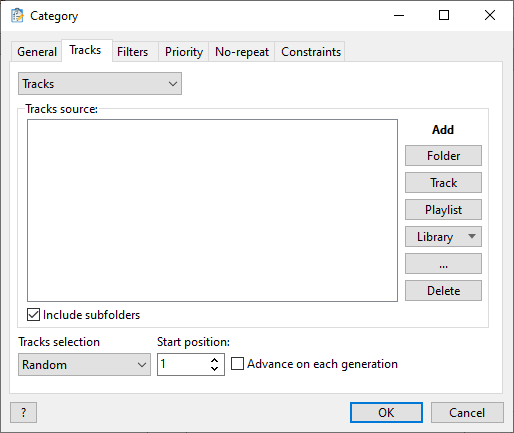 On the "Tracks" tab, select the source of tracks for this category. This can be a playlist, a folder, a music database or a standalone track. Several sources can be used.
You can use special tags in file names that the program will replace with corresponding values:
| | |
| --- | --- |
| ?yyyy | current year (4 digits) |
| ?mm | month (2 digits) |
| ?dd | day (2 digits) |
| ?hh | hour (2 digits) |
| ?nn | minute (2 digits) |
Tracks can be selected randomly or one by one (in order). In the latter case, tracks in the source are sorted alphabetically.
Start position - sets the initial track position in the source. This track will be the first to be selected when the "In order" option is enabled. This function is used for publishing materials that consist of several parts (such as lectures, for example). The "Advance on each generation" setting increases the starting position for the next playlist generation (so that the next part is used when a new playlist is created).