Search allows users to find a track in the Music library or folder.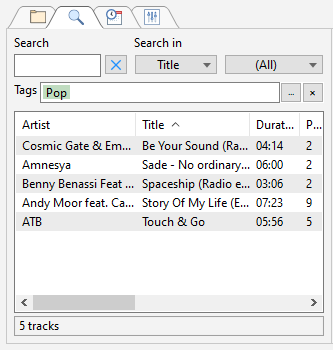 Click the Select... button (on the right) to select the the search source: one of the music libraries or a folder. Search in a folder covers the folder itself and its subfolders.
To search for a file, enter a keyword into the Find field.
As the first letters of a keyword are being entered, the program automatically queries its database and lists all the tracks that match the query. The results narrow down as the user keeps on entering letters. Users can search for a keyword in title, artist, album, year, genre, comment, etc.
To add files to playlist you may use drag-n-drop, right-click menu or hot keys:
Num+ or Insert add after playing file
Num- add to the end of playlist
Right-click the Stop button to show the contents of the whole library in the search result.
You can prelisten a track. To do this, hold down Alt and click on the track (or press Alt+R).
---
More information: