RadioBOSS allows users to customize the look of a playlist window, change fonts and colors, change time and track title format (12/24 hour) and more
To customize view settings, follow these steps:
1. On the top menu bar, select Settings > Options...
2. Click View.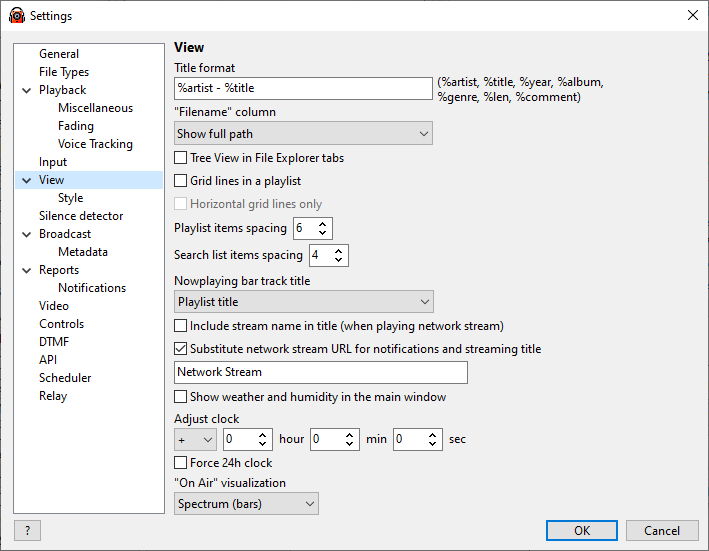 Title format

Track title format in the playlist. For example, if you want to include album information, you may use this string:

%artist - %title - %album

"Filename" column

Select what "Filename" column in the playlist should display.

Playlist items spacing

Setup playlist items spacing.

Grid lines in a playlist

Show grid lines in the playlist.

Horizontal grid lines only

When grid in a playlist is enabled, show only horizontal grid lines.

Highlight item under mouse cursor

Select item under mouse cursor.

Search list items spacing

Setup search list items spacing.

Include stream name in title (when playing network stream)

When playing an Internet stream include its title. If unchecked, only the track title will be displayed.

Hide stream URL during playback

Hides stream URL when playing the Internet stream.

Force 24h clock

Turn this on if you want to have clochs in 24 hour format. Otherwise it uses operating system format.

Show weather and humidity in the main window

Show weather and humidity information in the main window. Click on the label to change temperature units (Celsius or Fahrenheit).

Change time zone

Changes time zone for RadioBOSS - it affects clock display and scheduled events.

"On air" visualization

Visualization style in the "Now playing" bar.

Turn off visualization/level display

Turn this on to reduce CPU usage.
You can change the program's appearance in the "Style" section.