Track Tool used to set individual track parameters: start, end, intro, outro and others.
To start the Track Tool, right-click a track in the playlist and select Track Tool.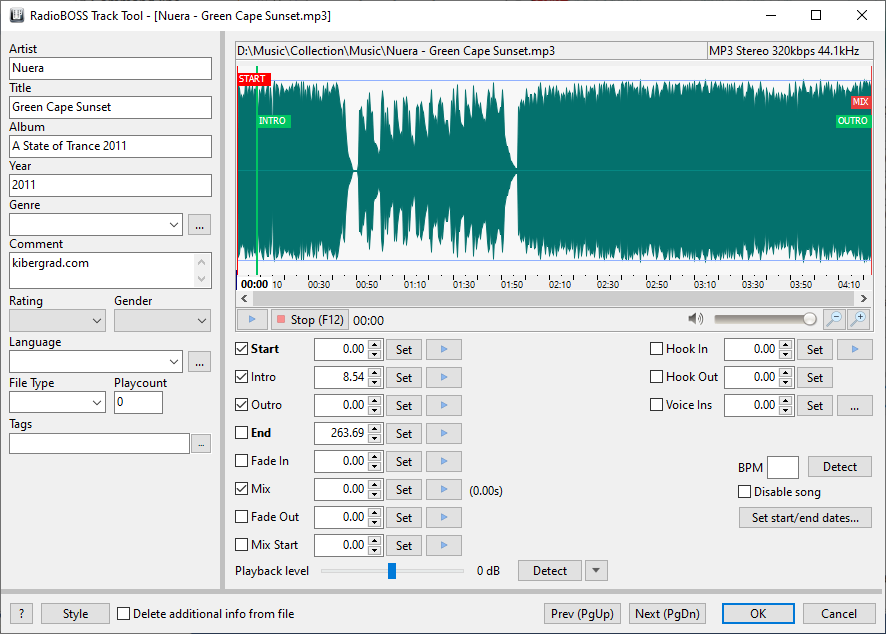 Start - sets the beginning of a track. The playback will start from that point.
End - end of the track.
Intro, Outro - intro and outro portions of the track. This is used in Voice Tracking.
Fade In, Mix, Fade Out - set the individual crossfading parameters.
Hook In, Hook Out - setting a place to cut the track for use in the Teasers.
Voice Ins - setting voiceover location.
Playback level - set track playback level.
To show/hide Tag Editor click the dark gray bar on the left.
To stop the playback, press the space bar. You can zoom in and out using the mouse wheel while the Ctrl key is pressed
and held. The zoom level can also be changed from the context menu that
appears after right-clicking on the graph.
If the option Disable song is active, the playlist generator or track list will not use this track when creating playlists.
The Set start/end dates button is used to set the track's start and end dates. If set, then a track will be used only during the time specified. Typical usage for this feature is to make specific songs appear in the playlists only at certain dates (for instance, New year songs). For this feature to work, both start and end dates have to be set!
The Disable song and Start/end dates are considered only when Playlist Generator or Track List are used.